How to Draw Well with Good Pencil Control
Showing the best ways to sharpen, hold and manage your pencil.
Graphite drawings can be some of the most illustrious, tonally gorgeous art works, but they can also be painstaking and difficult.
In the video below, I hope to show you some simple tips on how to hold a pencil, how to sharpen it for best control and what types of graphite to use.
A graphite drawing should begin with a light (or hard) graphite like a 5H Pencil (link to Amazon for a pencil set).  This type of pencil leaves a much lighter mark than the standard 2B Pencil (link to the brand of pencils I use).  The graphite is more dense and so it doesn't leave a mark so easily.
When you begin your drawing with this light of a pencil, you don't need to erase initial marks as much.
Sharpening your pencil is a key element too.
It isn't enough to sharpen the pencil in the typical pencil sharpener, because the point will dull down too quickly.  If you sharpen the pencil the way I'm showing it, you'll not only have a point that holds its tip longer, but the you'll see that the control is much improved.
To get a pencil sharpened this way, it requires that you use a sharp blade (Scalpel knife or razor blade work great) and to be very, very careful.
Before a session of drawing, I take about 10 minutes to get several pencils ready.
—
Once you have the wood part of the pencil sharpened, you can use sandpaper to get the graphite worked down to a perfect point.
Next is how to hold the pencil.  My approach is to think of drawing like painting, as in this past tutorial showing how to draw hair.  I hold the pencil like a paint brush and control it from my shoulder and elbow rather than my wrist and knuckles.

—
Lastly, to be better prepared for some a great drawing session, warm up by drawing a bunch of lines, curves, circles, angles, anything.
What you're doing is practicing some of the movements you're likely to use in your actual drawing.  By warming up this way, you're more prepared to draw with control.
Drawing from your shoulder instead of your wrist allows you to sit further back from the drawing and see what you're doing.  It also allows you to have a more fresh, bold look in your drawing, but it does require practice and a bit of warming up.
Does this help?  Let me know.  Write in the comments below or on my YouTube page.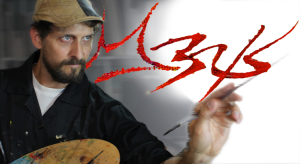 ~Matt Abraxas