How to Paint a Sensual Portrait of a Beautiful Woman
Speed Painting Demo of a Sensual Portrait • Video
After not having painted a portrait in nearly 3 years, it feels great to get another canvas filled with this particular image.
In this painting, I go over some of the fundamentals I tend to bring up often: painting with a sense of shape and color.
More though, I talk about the importance of keeping the emotional impact of a painting alive throughout the painting process.  In a sensual portrait like this, it is especially important because there is such a clear, overall mood.  The approach I go over here is an alla prima technique that creates a fresh, spontaneous look.
There is no drawing at the beginning, but working with major, overall shapes.
The mode of approach begins with shape defined by tonality and color.  Color is secondary though, and that is important to mention because it's easy to get hung up on color before the structure of the portrait is taking form.
After tonality and color, comes edge.  Edge is the handling of one form connecting with another, such as where the body connects with the background.
I hope the video makes sense and that it's enjoyable and informative.
Feel free to share it wherever and comment below with any critiques, suggestions or anything.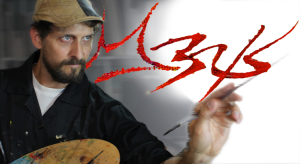 ~Matt Abraxas