Study Painting Tutorial
And it's my first painting in nearly two years!
It's been a while.  In 25 years, I've never gone so long without painting, but when I shifted gears in my professional a life a couple years ago by creating a video production company, New Focus Films (www.NewFocusFilms.com), all of my paints quickly gathered dust.
It wasn't my intention to take such a long hiatus.  As time went on, I simply became overwhelmed with the time and energy needed to get this company off the ground.  It still requires a lot of my time, but I'm now able to get back to other creative pursuits.
In the last year, I also wrote, directed and produced a short film, Vermin.  Vermin is still in the tail-end of post-production, but will be making the circuit rounds by the end of this summer (2016).
To be safe though, I moved my easel into my office where I do marketing work and the editing of commercials.  Every day, I look at the easel, wondering when I'll finally make the time for getting my hands dirty again.  I've looked through past pictures of poses to see if any sparked something.  I've made doodles for new poses, but nothing so far as even a sketch.
Finally, one day last week when everything was coming to a stand-still, not because there wasn't work to be done, but because I couldn't summon the motivation to do it, the easel lit up like a beacon.
It still took about 4 hours to get started, but once I picked an old pose on file and found a canvas ready and willing, it all came rushing back.
Here is the vlog I created about the process.  It includes some other minor events of the day such as my on-going Slow Carb diet, but the brunt of it is about the painting and how I see the importance of a creative endeavor.
If you like the video, thumb it up and subscribe to the channel.  You can do so by clicking here: the Abraxi Vlog.  This is a personal creative outlet and if you like it, it's all the more rewarding.
Understanding a Study Painting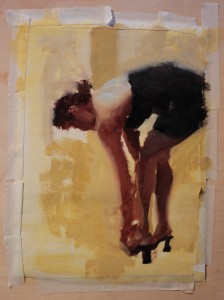 The idea of a study painting, essentially, is to practice for a more involved piece of art.  So, usually, a study painting has a specific aim to achieve, such as working out composition, color palette, brush stroke technique or any number of things.
The study painting is so useful because it seems to take the pressure off.  This then allows us room to be more playful.
In a way, art can be seen as a diet, and a study painting is then an allowed "cheat day."  In the video above, it starts out with me getting ready for a cheat day.  The fun of such a thing makes the challenges of a diet more worth the trouble.  Same with a painting study: it allows for letting your guard down and just finding out what works.
Typically, I make my study paintings on piece of canvas scrap or a smooth board.  Occasionally, I'll use a linen-wrapped board, especially if I expect the painting to possibly go no further than a study.  In other words, the study painting may be the finished painting.
The Amazon link to the right will take you to some of the type of linen panels I use. Purchasing from this link will also pay me a small percentage (and no extra charge to you), so if you buy from the link, I do appreciate it.
The following video of creating the study painting is substantially sped up.  The painting itself took about 2 1/2 hours to complete and the full video is only about 6 minutes long.  It isn't meant to be a thorough tutorial but just a highlight on certain creative decisions.
What I particularly like about this video though is that it is made after 2 years of not painting, and I was particularly curious of the approach I would take to sift through any rusty technique.
What came of it was less technique and more conceptual thinking.
I'm eager to hear any of your thoughts on this.  Comments and questions can be posted here on the blog or on the YouTube page for the art video.
Thanks for watching.  I'm happy to be back to painting and will have more content here and on YouTube soon.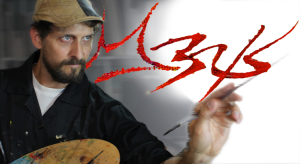 ~Matt Abraxas