Painting A Self Portrait and Jerry's Artarama Contest
Follow Along With Me In Creating A Self Portrait Over The Next Few Weeks
Every year at around my birthday in March, I paint a self portrait.  I've been doing for a long time as an exercise to see the progress of my skill as well as a reflection of my life at the time.
This year, it's a little more special for me as I'm turning 40 and I am also going through a lot of life changes, mostly to do with a big shift in career.  It's all stuff that's at once chaotic, scary as well as fun and right in line with what we (me and my family) want to be doing.
a self portrait will express how you feel about yourself as an artist
Also, it just so happens that Jerry's Artarama, the art supply store, is hosting a self-portrait contest with an April 6th deadline.  So, if you want to follow along with me over the next few weeks in creating a self-portrait, you can enter your in the contest just in time.
Go here to check out Jerry's Artarama and their Self-Portrait Contest
For me, painting a self portrait means much more than just trying to get my own likeness correct.  As with any portrait, it is a piece of art that attempts to say something about the subject.  With a self-portrait, it's especially interesting because the model and the artist are one, and that opens up an added layer to whatever is being expressed.
What I mean by this is that you as the artist are expressing through your artistic eye and skill level.  As a model, you are presenting your image to be scrutinized, replicated and hopefully expressed in a flattering light.  So, when you take on both of these roles, you will frequently shift between them, but mostly, a self portrait will express how you feel about yourself as an artist.
When I have painted self-portaits, I usually aim for a good portrait and try not to think too deeply about what I'm saying about myself.  I know that this will all be expressed in the painting, and it will be an authentic statement even if I'm unable to perceive it.  In fact, I usually don't read anything into these portraits until years later, and in some cases, not at all.  Others are able to perceive something in it that I don't.
The aspect of reflection that occurs in a self-portrait, for me at least, happens during the process of creating it.  I don't come to any conclusions nor do I attempt to.  I merely consider where I'm at in life and where I'm going.  For you, this may come out as an obvious artistic choice but for me, it tends to be much more subtle.
Follow Along With Me In The Process
In a few days, I'll post the first part of this process which is the nebulous state of finding that emotional response in a composition.  The hardest thing about a painting is often just coming up with the idea.  Along with this, the hardest thing about creating a self-portrait is getting comfortable with painting yourself.  If you though hearing your own voice was an uncomfortable thing, this can get worse.
But fear not! Don't shy away from a great opportunity to not only paint from a live model who is going to be with you no matter what, but also to take a moment to get comfortable with yourself.
As artists, our greatest asset is our expression and our ability to connect with others.  Without first taking a look at ourselves, we cannot fully see the world around us.
So, next post, in just a couple days will be a lot less preachy and self-help-ish, and get into the first real steps of setting up a self portrait.
These steps are basically the same as setting up any portrait, or for that matter, setting up any figure painting or still life as well, so even if you just don't want to paint your own unique face, the next 3 steps in this process will be helpful.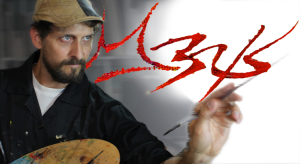 ~Matt Abraxas